Conceptualization
We work closely with our customers to transform their concepts and ideas into detailed product specifications. Our team of design experts use the ISO 9001 registered development system: this specification guides the entire process of product development to secure product success.
Manufacturing
We provide a wide range of electronic manufacturing services: SMT and Thru-Hole PCB assembly, electronic, mechanical, hydraulic, optical system assembly and/or final system or box build. Our MRP systems maintain inventory integrity whether your job is turn-key or consignment material.
Engineering
Our experienced design engineers develop products for the semiconductor, medical, and aerospace markets. Our experience with advanced design automation tools result in efficient product realization. Concurrent process development ensures your product can be efficiently and reliably manufactured once design is complete.
Testing
We can provide manual to fully automated testing, such as PCB's, subassemblies, cables, and / or fully integrated systems. Our capabilities include electronic, mechanical, hydraulic, and optical system testing. We will work closely with your team to develop custom SPC protocols to provide dock-to-stock product.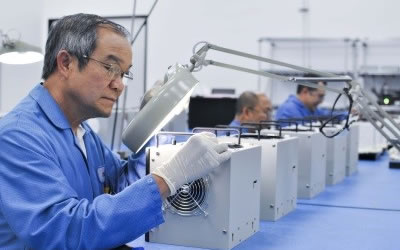 Prototyping
Our design methodology incorporates an extensive use of prototyping. The prototypes we create for our customers are fully realized working models that are suitable for design verification, product validation, and industry certification. Prototyping techniques we use at MEI include 3D solid modeling for virtual prototyping, Stereo lithography and Selective Laser Sintering for rapid physical prototypes, and simulation and emulation for rapid firmware development.
Complete Project Management
WOur multi-disciplined and experienced team will be led by a Project Manager to assure customer needs are satisfied and product specifications are exceeded. Operating within the guidelines of our ISO 9001 registered quality system and utilizing the latest project management tools, the Project Manager oversees a quality product, on-time. If you desire, we can coordinate the UL or CE certification process.